Blue KC kicks off Medicare Advantage AEP
Please review the information below and contact your Broker Development & Engagement Manager with questions.
Broker Concierge Service – your one stop shop
We value you, which is why we have added another layer of broker support. Introducing our Broker Concierge service, a dedicated email address and customer service team to support your MA, IFP/ACA, and Medicare Supplement questions. Need help with claims, billing, or benefit assistance? Send the information below to Govt_broker_services@BlueKC.com.
Member name
Member ID
Member phone number
Description of issue
Your name
If someone is submitting the request on your behalf, they need to include your name and NPN
The dedicated customer service team will research/resolve your questions, contact the member on your behalf (three attempts will be made), then email you with final status/resolution. This is truly a concierge service.
How to navigate Find Care for local and national networks
When clients are ready to find a provider, the path is clear. Advise them to visit Blue Medicare Advantage Find Care, click the Find a Provider button in the Part C section, then search for local providers in the Blue Medicare Advantage service area.
When

they need a Blue National Network provider, direct them to

Blue Medicare Advantage Find Care, click the Find a Provider button in the Part C section, go to Other Directory Links in the bottom right corner, then Find a Provider Nationwide.
See How to Find a Provider for more details.
NEW 2024 Blue Medicare Advantage Dental Network
You gave us feedback, and we took action. Blue KC is rolling out a new dental network for 2024 (replacing DentaQuest). In partnership with Dominion Dental, our third-party administrator, we are building out a robust network with superior customer service. Note: This is not the Blue KC commercial dental network.
You will find a PDF of the Blue KC MA Dental Network on the Blue KC Agent Portal, Medicare, Plan Documents beginning October 15. This document will be updated often as we add to the network.
Your Agent Portal is a source of materials you need
2024 Plan Year information will be live October 1 on the Blue KC Agent Portal. Once logged in, click Medicare in the left navigation and connect to:
Electronic Enrollment using Connecture (new this year – tabs for 2023 and 2024 in the same link)
Plan Documents, including digital Information Kit, Formulary, Dental Providers, ANOCs, EOCs, Summary of Benefits
Agent Materials, including the Broker User Guide and Rollout Slide Deck
Agent Product Education, including supplemental benefit FAQs
Watch a recap of the 2024 Blue Medicare Advantage Broker Rollouts
More than 400 agents attended three rollout sessions and the new Broker Showcase. Thank you! If you were not able to attend or want to review the sessions, watch Broker Development and Engagement Managers Angie Sutton and Barb Bins color analyze the Broker Rollout slides in this rousing video. It will be available October 1 at Blue KC Agent Portal, Resources, Marketing Communications.
IMPORTANT: 2024 member ID card and Blue Benefit Bucks card
Please remind clients to KEEP their current Blue Benefit Bucks card (white card), which we will reload with the appropriate amount for their 2024 plan. As a reminder, members must spend their 2023 Member Rewards by March 31, 2024.
Members will receive a new 2024 member ID card, which is WHITE and easier to read. Their PCP will be listed on the front of the card.
NEW Enhanced user experience in Connecture
You can now use the same button to link to the Electronic Enrollment process in Connecture for 2023 and 2024. Simply select the tab with the year you want. And, you can keep an electronic Scope of Appointment for each enrollment. Blue KC rewards you with $50 for each electronic enrollment (awarded in April 2024). Find Connecture at Blue KC Agent Portal, Medicare, Electronic Enrollment.
Is your Ready to Sell (RTS) status green?
To verify status, visit your Blue KC Agent Portal. On the homepage look for these green check marks.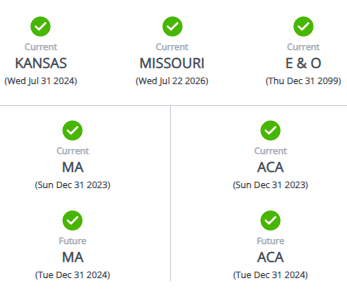 Missing some needed green checkmarks? Review our recertification instructions.
Reach out to producerinfo@bluekc.com or call 816-395-3016 for assistance with your RTS status or any of the topics below:
New Agent/Agency Appointment
Medicare Advantage Recertification
ACA Recertification
Commission Questions
Once you are ready to sell, please request your 2024 MA Information Kits by emailing MAKitRequest@BlueKC.com. Please include the number of kits, shipping address, agency, NPN, your name. Or get it October 1 at Blue KC Agent Portal, Medicare, Agent Materials.
Need 2024 Blue Medicare Advantage Information Kits?
The 2024 Blue Medicare Advantage Information Kit includes everything you need to sell our plans.
Plans-at-a-Glance
Summary of Benefits
Pre-Enrollment Checklist
Low Income Subsidy Form
Scope of Appointment (perforated for easy tear out)
Full Enrollment Form (perforated for easy tear out)
Order kits by emailing MAKitRequest@BlueKC.com and include the number of kits, shipping address, agency, NPN, your name. We'll process your order and deliver promptly. Or get it October 1 at Blue KC Agent Portal, Medicare, Agent Materials.
2024 Blue Medicare Advantage Network of Hospitals
We're frequently asked what hospitals are available in our service area. Here is a handy list of the top hospitals for reference:
AdventHealth
Bates County Memorial
Belton Regional Medical Center
Cameron Regional
Excelsior Springs Hospital
HCA Midwest Health System
Liberty Hospital
Mosaic Life Care (PPO plans only)
Nevada Regional Medical Center
North Kansas City Hospital
Olathe Health System
Providence Medical Center
Saint Luke's Health System
St. Joseph Medical Center
St. Mary's Medical Center
University Health Truman Medical Center
The University of Kansas Hospital
Thanks for your feedback!