PRESIDENT'S LETTER
Expect More: The Value of Blue isn't just the theme of our 2017 Annual Report, it's the precept that underlies everything we do. We expect more of ourselves because simply meeting expectations is not an option. Our goal is to offer more than is expected to our members, physicians, community and partners.
For members, more means going beyond what they expect from traditional health insurance and creating products and services that improve their lives; ultimately increasing quality of care while lowering overall healthcare costs.
For physicians, more means actively seeking out innovative partnerships with the provider community that place a greater emphasis on primary care, which has been proven to drive positive change in the way healthcare is delivered in our community.
For our community, more means giving back through long-standing relationships with organizations that improve health and wellness, not only for our members but for the communities we serve in and around Kansas City.
For our partners, more means using our experience and expertise to develop creative solutions with the end goal of establishing quality-driven, patient-centered and outcomes-focused health delivery strategies that improve their bottom line. For those we serve, the value of Blue comes from knowing we're doing our best to be more than an insurance company and offering more than we've ever offered before.
And as always, there is more to come.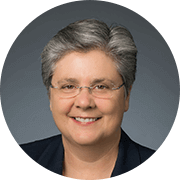 Danette Wilson | President and CEO
Quality Care
FOR MEMBERS
In 2017, members told us that we could do more for them by making healthcare less confusing. In response, we developed valuable products and services that put the member first and make healthcare simpler.
Spira Care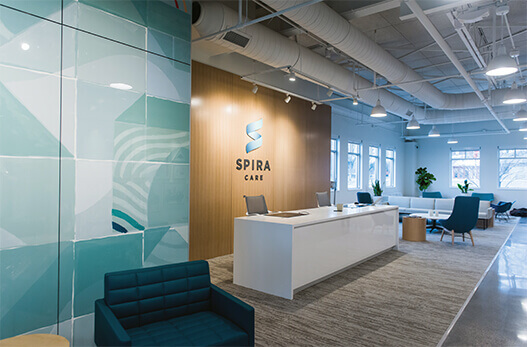 This Changes Everything
Few things are as personal as your health. And yet healthcare sometimes seems so impersonal and confusing. In 2017, Blue KC set out to put the "care" back into healthcare.
This is the story of Spira Care. It started with us asking ourselves, "How can we make healthcare simpler and more affordable for everyone?" It's a question that made us rethink what a health plan could be. The healthcare and strategy professionals at Blue KC partnered with top regional healthcare providers, like Shawnee Mission Health. Together, we erased the chalkboard and built a new model from the ground up. The result is Spira Care – an innovative health plan that combines care, coverage and coordination into one seamless offering.
"In the Amazon era, consumers are used to experiences that are simple and intuitive, yet personal and convenient, and we wanted to make sure we were offering that kind of desired experience to our members," said Jason Spacek, Blue KC Vice President and Chief Innovation Officer. "We started by inviting the people in our hometown to help us design the care of the future."
People wanted a welcoming place for their care and a simplified health plan. These insights led us to streamline the member experience around our Care Centers and Care Guides.
Everything about Spira Care revolves around the member. We created a singular experience with a medical and advocacy team that is focused on the individual's needs.
We've built a healthcare experience without time constraints. It's a world where you can actually spend time with your doctor.
The newly constructed Spira Care Centers give members exclusive access to a single, integrated location for primary care, diagnostic tests, lab tests, x-rays and more. These services are covered at 100 percent for every visit. No copays. No coinsurance. Just high-quality care from trusted doctors that is fully covered.
Members also have a single point of contact to coordinate their care. Our team of Care Guides helps members understand their benefits, answers questions, and much more. This personalized approach is improving the healthcare experience for our members. "We've built a healthcare experience without time constraints. It's a world where you can actually spend time with your doctor," said Dr. Greg Sweat, Blue KC Senior Vice President and Chief Medical Officer. "We've also created a support team surrounding that doctor. We think that happier doctors make happier patients."
For other medical needs such as specialty care and hospitalizations, Spira Care works much like a traditional health plan with a simple annual deductible. Members have access to the BlueSelect Plus network within the Kansas City metro area.
Simple. Personal. Member-centric. Spira Care is redefining what a health plan can, and should, be.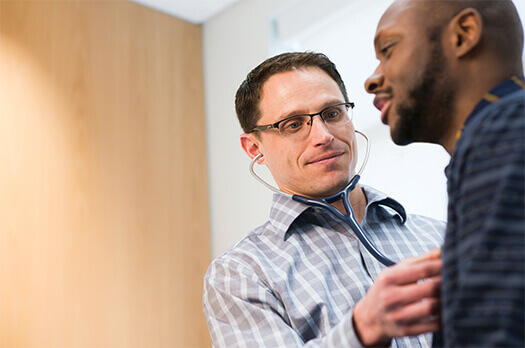 An Idea that is Catching On
Customers like Johnson County Park and Recreation District (JCPRD), Mortgage Lenders of America and Barkley were some of the first employers in the area to offer Spira Care to their employees. Here's what they're saying...
See What Makes Us Different
Greater Blue
A New Way of Thinking About Health Insurance
As a local health insurance company, we understand the needs of our community. With the rising cost of care, it's why we're committed to making health insurance more affordable. And that's why we created Greater Blue.
So, what exactly is Greater Blue? It's a portfolio of new solutions and includes the BlueSelect Plus network and Spira Care – both designed to give access to superior healthcare at lower premiums for employers and their employees across Greater Kansas City.
BlueSelect Plus
How do you offer consistent, sustainable savings to employees and members without sacrificing benefits? You start by partnering with high-quality, local care providers. The BlueSelect Plus network gives members access to over 3,000 physicians and specialists at over 11,000 access points. It also gives employees and employers an option that helps manage rising healthcare costs.
Facing the need to dramatically cut costs, North Kansas City School District (NKCSD) replaced all their health insurance plan offerings with BlueSelect Plus.
While this was a major decision for NKCSD, Blue KC was able to share accessibility and utilization reports indicating that 86 percent of the school district's employees were already using providers within the BlueSelect Plus network, easing concerns around disruption.
"Choosing BlueSelect Plus was the right decision for our district. And it was the right decision for our employees," said Dr. Dan Clemens, NKCSD Superintendent. "We were able to save over $2.9 million off our annual premiums and put these cost savings back into our schools."
It's these types of successes that drive Blue KC to find more cost-effective solutions that help meet our clients' needs as the landscape of health insurance continues to change. Greater Blue has given us new options to share with our customers that can't be matched in the marketplace.
We were able to save over $2.9 million off our annual premiums and put these cost savings back into our schools.
Customer Service
A very important group has recognized our customer service as world class – our CUSTOMERS
Since 2013, Blue KC customer service representatives have been recognized as part of the World Class Certification Program. Why is that a big deal? The certification comes directly from our customers' feedback about their interactions with our representatives.
At Blue KC, our customers are our priority. We are constantly evaluating, and then enhancing our systems, procedures, programs and offerings to be more attuned to our customers' needs.
"We listen to our customers to understand what will simplify their experiences with us," said Dan Frazier, Blue KC Vice President of Operations. "People's stress levels run high when they're dealing with health issues. We want to do all we can to help alleviate that stress and make things as easy and uncomplicated as possible. So improving and streamlining our customers' experience will continue to be a main priority for us."
In 2017, we focused on two areas of improvement. First, we made significant upgrades to our phone system. The new system monitors call volume and trends, so we can reduce our customers' wait time and ensure they're being directed to the right person. And now, customers can request a callback if the approximate wait time is too long for them.
Second, we streamlined our electronic payment processes to make our customers' experience more convenient; now, they can call in and make premium payments any time, in a secure format, without speaking to a live representative.
And in those cases where it is necessary for our customers to speak with a representative, they are working with someone right here in Kansas City. "The people we serve are our neighbors, friends, our kids' teachers," said Mindy Rubio, Blue KC Director of Operations. "People who call are often surprised, and comforted, to find they are speaking to someone in their hometown. They know we'll have a better understanding of their issue, whatever it may be."
What Our Members Are Saying
Darnell has done a superior job communicating with me on claims issues. This kind of customer service is rare. He has gone above and beyond. Every time he said he was going to call me back, he called me back.
Cora's professionalism is truly remarkable. Equally remarkable is the heart-touching personal touch that Cora has so demonstrated. For us, Cora personifies the excellence of what we call professional service.
As one who trains customer service employees, I wanted to let you know that D'Nae is doing a phenomenal job.
You have an associate who takes personal ownership of your company and also has total commitment to deliver excellence for your brand. That truly is a rare combination. Stephanie is amazing.
Centrus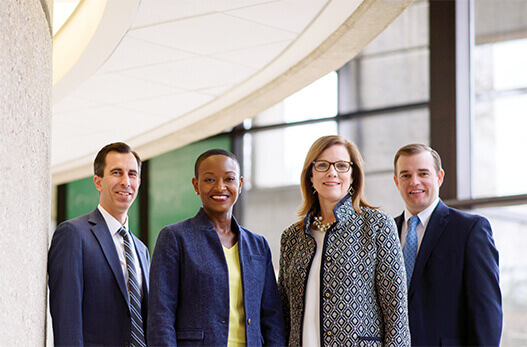 Inspiring Breakthrough Developments
Blue KC has long been at the forefront of exploring innovative approaches to deliver high-quality, affordable healthcare to our members and facilitate smarter spending on behalf of all stakeholders. Since 2010, when we launched the Blue KC Medical Home Program, we have actively sought partnerships that will place a greater emphasis on primary care; ultimately lowering the cost of care, improving health and reducing health inequities.
In 2017, Blue KC and Centrus Health, a Clinically Integrated Network (CIN) of more than 1,600 providers from across the region, formed an Accountable Care Organization (ACO) bringing together some of Blue KC's highest performing medical homes in a first-of-its-kind, physician-led network to improve quality and reduce costs by delivering coordinated, efficient patient care.
Our commitment to deepen provider partnerships is exemplified by the Centrus Health agreement.
Centrus Health is made up of the employed medical groups of North Kansas City Hospital, Shawnee Mission Health and The University of Kansas Health System, and independent physicians including The Kansas City Metropolitan Physician Association. Its membership makes it unique to the Kansas City market because competing health systems aren't often found in the same ACO.
Chris Wilson, Centrus Health Executive Director, said that Centrus Health has three main priorities, "Physician-led governance focused on quality, shared data and infrastructure, and a mechanism through which to contract for value-based arrangements." Blue KC sees Centrus Health as an investment in primary care and a value-based delivery model that will help drive better outcomes.
Qiana Thomason, Blue KC Vice President of Population Health Solutions, explained, "Our commitment to deepen provider partnerships is exemplified by the Centrus Health agreement, while also building upon our success with the Blue KC Medical Homes."
Many of Blue KC's key constituents stand to benefit from the partnership. Centrus Health gives participating providers access to shared data and infrastructure and the heightened ability to spot the gaps in care and take action. Those providers are then able to drive the discussion around the quality of care in our community, ultimately leading to improved health for their patients.
How will Centrus Health accomplish this? Wilson explained, "We've set standards on quality metrics. To be in the network, providers need to focus on meeting the standards. For example, the metrics include a focus on preventive care, like cancer screenings, and chronic conditions, like diabetes."
With partnerships like Centrus Health, Blue KC is playing a key role in helping to drive high-quality care while helping members and employers lower their overall healthcare costs.
CPC+
Transforming the Future of Care
In 2017, Blue KC and Centrus Health, a Clinically Integrated Network (CIN) of more than 1,600 providers from across the region, formed an Accountable Care Organization (ACO) bringing together some of Blue KC's highest performing medical homes in a first-of-its-kind, physician-led network to improve quality and reduce costs by delivering coordinated, efficient patient care.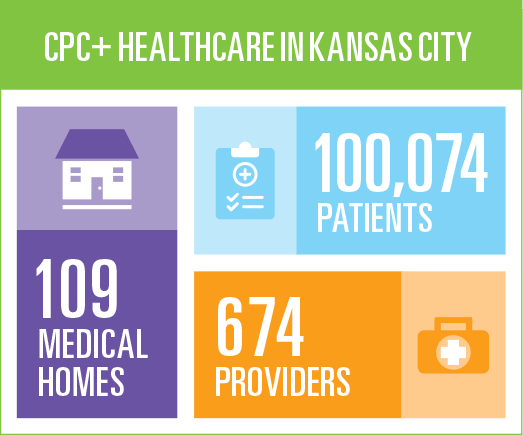 Unwavering Support
For Our Community
In 2017, we did more for our community by supporting organizations that provide children and adults with the tools and supplies they need to live healthier and happier lives.
Giving Campaigns Year In Review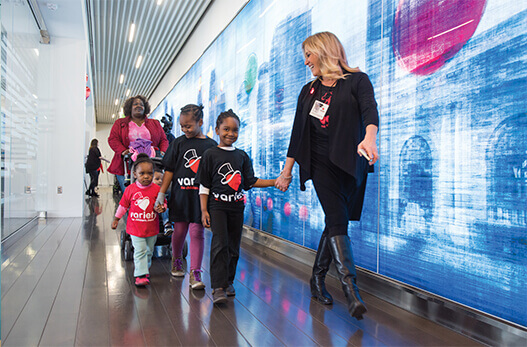 Each year, Blue KC employees give back to our community in various ways including drives for organizations and countless hours spent volunteering. We also spend one week a year in April recognizing the volunteers and all the hard work they do. Employees volunteered 10,000 hours in 2017. In turn, we supported 312 organizations in 2017. We are proud to help create happier tomorrows through volunteerism.
The Caring Program for Children
FEBRUARY 13-17
+ $42,375 donated
Employees donated money to The Caring Program to fund specialized medical equipment for local children with special needs, including floor sitters, valet seats and gait trainers.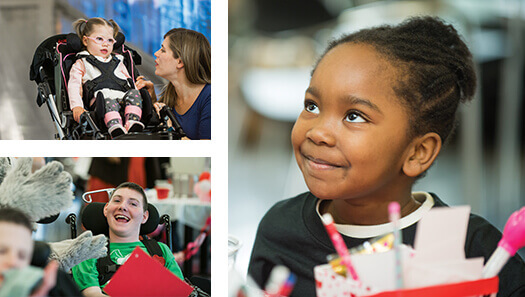 United Way
October 16-20
+ over $199,600 donated
+ more than 400 employees participated
Employees hosted various internal fundraisers and raffles to raise money. Funds go to help all local nonprofits under United Way.

KVC Holiday Heroes
November 28-December 15
Employees brought in monetary donations, toys and gifts for kids in foster care at KVC.

Harvesters
July 17-21
+ over 3,462 pounds of food donated
+ 120 volunteer hours
+ 17,550 pounds of food packed
+ 91,638 total meals provided
Employees contributed canned goods as well as volunteered at Harvesters and donated online.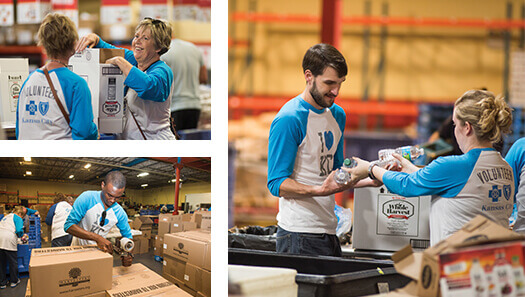 National Volunteer Appreciation Week
April 24-28
Blue KC celebrated National Volunteer Appreciation Week by giving their time and talents throughout the Kansas City community. We also launched a new volunteer tracking system paired with a Dollars for Doers program to track volunteer hours so employees are eligible for a grant towards a charity of their choice.
Organizations Supported in 2017
HappyBottoms
Giving the Basics
Blood Drive for The Community Blood Center
Painted and potted flower pots for Kansas City Hospice
Ronald McDonald House Charities Lunch & Dinner
Stuffed kits for dialysis patients for National Kidney Foundation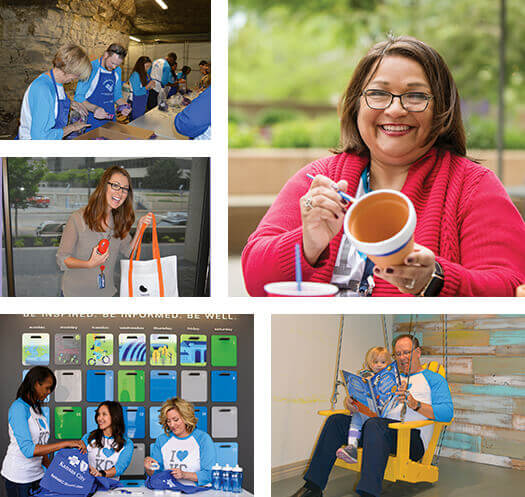 KVC Kansas Holiday Drive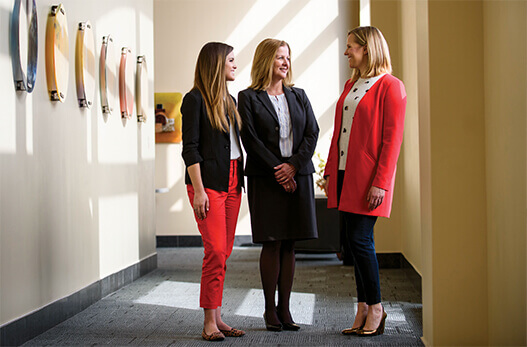 The Power to Improve Health Through Giving
In December, Blue KC employees went shopping. Not for themselves, but to buy toys, like remote-control helicopters, dolls and LEGOS, for the kids in the KVC Kansas Holiday Heroes program. Every year during the holiday season, KVC Kansas collects presents, gift cards and monetary donations to ensure that children in the foster care system have every chance for a happy holiday. Every December, Blue KC employees choose an organization to support for our holiday drive. In 2017, employees chose KVC Kansas because of the work they are doing to improve our community.
KVC Kansas helps stabilize and strengthen families in crisis so they can safely reunite. They support children rescued from abuse and neglect, and partner with caring relatives and foster families so the children can heal from unimaginable trauma. KVC Kansas provides practical parenting skills needed to create happy, healthy families and works to find children forever families through adoption.
On any given day, KVC Kansas provides out-of-home care for more than 3,700 kids. Every child in our care received a variety of wonderful toys and clothing with the help of the generous donors at Blue KC.
That's why Blue KC has supported KVC Kansas since 2002. In fact, we've supported more than 350 regional organizations like KVC Kansas over the years and host five internal giving campaigns for various local organizations throughout the year. It's a testament to Blue KC's commitment to improving the health and wellness of not only our members, but also the communities we serve in and around Kansas City.
As for whether goodwill has the power to actually improve health? Let's just say, we believe.
Made (Blue) In KC
Blue KC is proud to serve many national companies that call Kansas City home.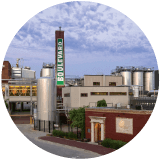 Boulevard Brewing Company
"We have received a lot of support from Blue KC since developing our wellness program. Their on-site biometrics, wellness challenges and commitment to the health and well-being of their partners has enriched our overall experience."

DAIRY FARMERS of America
"We've been partners with Blue KC since 2009 due to the flexibility in program offerings and the exceptional customer service."
Garmin
"Blue KC shares our philosophy of treating associates like family and lives it in all that they do."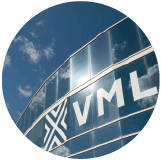 VML
"VML's partnership with Blue KC has been in place for more than a decade, and during this time VML has grown immensely. Blue KC, with their large national network, has been able to accommodate our increasing number of employees across the nation."

Je Dunn
"Blue KC has helped us create competitive medical plan options that our employees value."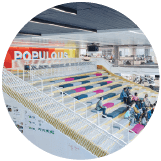 Populous
"We continue to choose Blue KC because its a local, not-for-profit company that has our best interest at heart and one we can trust to truly partner with us for the long term."
Who We Cover
AS THE AREA'S MARKET LEADER AND HOMETOWN HEALTH PARTNER, WE SERVE MORE THAN 1 MILLION MEMBERS AND ARE COMMITTED TO IMPROVING THE HEALTH OF THE KANSAS CITY COMMUNITY.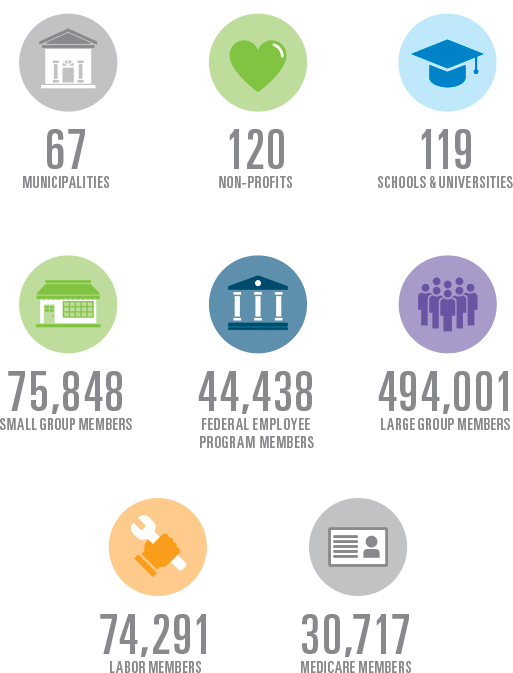 Creative Solutions
For Our Partners
In 2017, we did more for our partners by helping them navigate the ever-changing healthcare industry and providing them with valuable solutions that save money and improve the health and wellness of their employees.
University of Central Missouri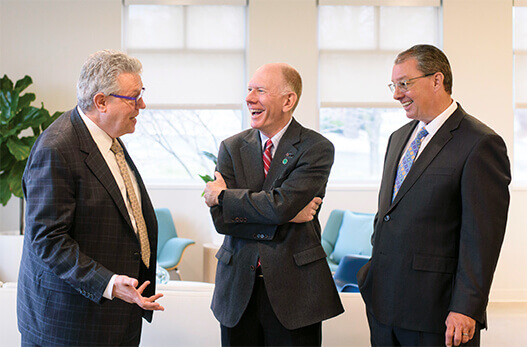 Reducing Costs Together
A conversation that started two years ago with Dr. Charles Ambrose, University of Central Missouri (UCM) President, and Ron Rowe, Blue KC Senior Vice President, Sales and Marketing, about ways payers, providers and employers can work together to bring down the escalating costs of healthcare, came to fruition in 2017.
The result is a groundbreaking agreement between UCM, Western Missouri Medical Center, Saint Luke's Health System and Blue KC to establish a quality-driven, patient-centered and outcomes-focused health delivery strategy that stabilizes overall healthcare costs. An agreement that Dr. Ambrose calls a win for all involved.
Rowe said, "This was Dr. Ambrose's vision. He came to us looking for ways to help UCM control costs for its employees. We had been talking to him about the success of the Blue KC Medical Home program, and he put two and two together and said, 'Why don't we offer a medical home on the UCM campus?'"
The idea to offer a medical home grew into something even bigger: an Integrated Community Care Model that would improve health and reduce healthcare costs for UCM employees.
Dr. Ambrose explained, "University healthcare costs were climbing at the rate of $1 million annually. We had put ourselves into a position where our cost curve was broken. We needed partners who would help us explore new opportunities to help reduce the financial impact on the institution and its employees and their families while providing high-quality patient care and wellness activities. Western Missouri Medical Center, Saint Luke's Health System and Blue KC were willing to do that.
As we start building savings, we're going to find the appropriate way to give that back to employees by reducing their premium cost and incentivizing healthier behaviors.
"Every dollar we save in this plan, we're going to give back. As we start building savings, we're going to find the appropriate way to give that back to employees by reducing their premium cost and incentivizing healthier behaviors," said Dr. Ambrose.
Rowe adds, "The employees who choose to be a part of this now have a $0 copay when they go to their primary care physician. And ensuring more people have relationships with their primary care physician helps control the medical spend."
While this agreement is unique in both the way it is being delivered and the partners involved, Integrated Community Care Models have proven to be successful in driving high-quality, cost-efficient care across the United States. But how does the model actually save money?
Dr. Gregg Laiben, Blue KC Vice President for Employer Health Solutions, explained, "Unit costs and utilization drive everything, and there's lots of variation in costs from facility to facility. A knee replacement might cost $45,000 at one facility but only $22,000 at another, with both facilities having the same outcomes. If we can use data to help primary care physicians find the best care at the best price for their patients, we can lower cost and improve outcomes."
The Integrated Community Care Model will also drive down costs by giving patients the help they need to navigate a system that can be confusing.
"The healthcare system is one of the most complex things most of us will ever deal with. The primary care physician is the best person to help patients navigate that system, giving them answers when they have questions such as 'What can I do to prevent a complication from occurring? How do I control my chronic condition so I don't end up in the hospital? When is the appropriate time to go to the emergency room?' Giving patients the ability to easily see a primary care doctor to answer their questions instead of going to the ER will save money, improve health and ultimately help people live healthier, happier lives," said Dr. Laiben.
Workers' Compensation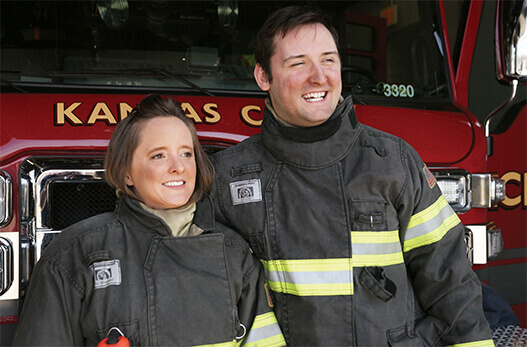 If a Partner Comes to Us with a Problem, we Come Back With A Solution
Blue KC has had a strong relationship with the City of Kansas City, Missouri, for decades. The City came to us recently for help. They wanted an integrated Workers' Compensation Program for their employees.
"We greatly value Blue KC, not only as our health insurance provider but as our partner in health, which is why we knew they could deliver an outstanding program that met our employees' unique needs," said Louie Wright, Chair, KC Health Care Trust.
We understood that the City was in a unique position, with a special group of employees. The City of Kansas City, Missouri, is responsible for the care of dozens of first responders – such as firefighters, EMTs and paramedics – with physically demanding, high-risk jobs. So, we developed a new Workers' Compensation Program to better meet the needs of their employees.
"We're a hometown company and we look out for our members. We knew a Workers' Compensation Program for the City would benefit not only our client, but also the first responders who put their lives on the line for our community," said Ron Rowe, Blue KC Senior Vice President of Sales and Marketing.
The workers' compensation program has resulted in more than $3.6 million of in-network savings and improved services to members.
On May 1, 2017, Blue KC began administering the Workers' Compensation Program for the city.
"Since its inception in May, the Workers' Compensation Program has resulted in more than $3.6 million of savings to the City and improved services to the members," said Wright. "In addition, through streamlined communication processes set up by Blue KC, injured workers can speak directly with a dedicated nurse when they call to report an injury; the nurse provides medical advice and helps direct the injured worker to the care they need. A dedicated inquiry line and team of local claim adjusters are available to answer any questions."
Under the program, the City's injured workers receive favorable pricing with qualified providers who have experience treating work-related injuries.
Our partners trust us with the health and well-being of their employees; that's not something we take lightly. So, when they come to us with a problem, we come back with a solution.
Reducing High-Cost Claims
high-quality care doesn't have to mean high-cost care
When it comes to the challenges of high-cost care scenarios, such as managing chronic diseases, sometimes you just have to think outside the box. With 20 percent of the population accounting for 80 percent of the healthcare dollars spent, Blue KC is always looking for new ways to help employers manage expenses while improving the health outcomes of their employees.
How? For starters, we have a clinical team that combines data analytics with advanced research care options. This results in innovative alternatives that improve patient outcomes and lower cost. One example is our work with Quest Diagnostics – a Blue KC provider and client. Dr. Steven Goldberg, Quest Diagnostics Vice President and Chief Health Officer, collaborated with our clinical team to implement several new programs aimed at improving overall health among the company's employees and their families. The efforts have not only resulted in better health for the people of Quest Diagnostics, but also have helped moderate cost trends.
"I work closely with the clinical team at Blue KC to study claims trends so that I can better understand the medical needs of our employees," said Dr. Goldberg. "In doing so, we're finding insights that allow us to provide high-quality care while being smarter about our healthcare spend."
The clinical team at Blue KC is made up of people like Shelly Chavez, a clinical account coordinator, who acts as a liaison between Blue KC and our partners. She responds to inquiries from across the continuum of care – including members, customer service representatives, physicians and employers. Shelly can see when high-cost claims come through that are related to a particular diagnosis or prognosis. She can then reach out to members to ensure that they are receiving the care they need and identify cost savings opportunities.
"I'm here to find creative ways to help members get the right care and help lower the costs for all stakeholders. If we can help employers and employees better understand their care options and cost savings opportunities, it's a win-win for all parties," said Chavez.
Shelly created a potential savings of about $1 million per year over 2018 and 2019
Last year, a Blue KC member needed infusions that cost roughly $270,000. Shelly reviewed the claims, did some research, and found a free drug program that the member qualified for. The member was able to receive scheduled infusions and start a maintenance phase, with no charge for the drug and medical expenses of less than $10,000 per visit. Shelly's ability to pinpoint this care option created a potential savings of about $1 million per year for 2018 and 2019. This savings will result in a lower cost for both the employer and the employee.
Labor Partnerships
With Blue KC and labor unions, the feelings are mutual
Blue KC's labor partners have been looking to us to help them navigate the ever-changing healthcare landscape for the past 20, 30, even 50 years. And as a local health insurer in Kansas City, we believe we have a better understanding than other insurers of this community, its people and their healthcare needs.
Mo-Kan Sheet Metal Workers Welfare Fund has been a customer for nearly 20 years. "One reason we're so loyal to Blue KC is because of the local account team, who truly understands our unique needs," said Greg Chastain, Sheet Metal Workers Local Union No. 2 Business Manager. "They know us, they know our history, they know this region. And they're always available to answer our questions."
Our union labor partners rely on us to guide them through all the changes in the healthcare industry and to continue delivering quality healthcare at affordable prices. "We've worked closely with our partners, their business managers and even their trustees to come up with creative ways to continue providing plans that are affordable but still offer extensive, wide-ranging benefits," said Garry Kemp, Blue KC board member and former Executive Vice President and Business Manager of the Greater Kansas City Building and Construction Trades Council.
Another key to successful long-term partnerships is having common interests. Both Blue KC and our labor partners are dedicated to the local community. "We choose to partner with the hometown team, and we have for nearly 30 years," said Alise Martiny, Secretary-Business Manager for the Building and Construction Trades Council. "Not only does Blue KC offer a great product, but they believe in giving back to the Kansas City community like we do, and that's important to us."
We choose to partner with the hometown team, and we have for nearly 30 years.